The image book which my illustration appears on is sold.
---MASCOTTE---
http://www.mondofragile.com/
MASCOTTE/mascotte.htm
---PICTPLAZMA2---
http://www.die-gestalten.de/flash.php
---mondofragile---
http://www.mondofragile.com/
mondofragile.htm


★EMMA GOODS★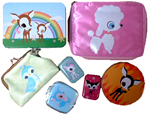 EMMA GOODS is sold at NOOKART.
There are very CUTE & PRETTY!!


click on icon to NOOKART page


Copyright 2003 (C) EMMA.
All rights reserved.
Images from this website may not be reproduced.



About the request
of the work
Write what kind of work to be by mail, and send it to me.
emma@mbf.nifty.com
That case.
Please write
title&subuject=to EMMA Illust work from (yourname)
Many spam mail from the foreign countries reach,
and I am in trouble.
It is thought spam mail, and removed.